The Soul in Depression: Dr. Anita Barrows on NPR
See Dr. Barrow's professional biography here.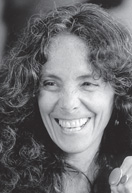 Depression and anxiety have a common duality in spirituality and the human experience. Is the melancholy of depression akin to the fervor of love? This week, NPR examined this question in its "On Being" radio show and podcast. Along with Andrew Solomon, author of National Book Award winner, Noonday Demon, and Parker Palmer, Quaker author and educator, Wright Institute Clinical Psychology Program faculty member Dr. Anita Barrows spoke with host Krista Tippett.