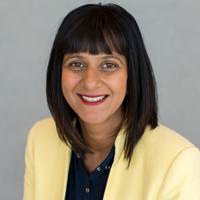 Ulash Thakore-Dunlap, MS
Full-Time Faculty
udunlap@wi.edu
B.A. Business and Sociology, London Guildhall University, England, 1996
P.G.C.E., Edge Hill College, University of Lancaster, England, 1999
M.S. Counseling, San Francisco State University, 2006
Ms. Dunlap is a Licensed Marriage and Family Therapist and holds a PPSc (School Counseling Credential.) Currently, she teaches classes at San Francisco State University MS Counseling Program. Ms. Dunlap also maintains a private practice in San Francisco where she provides counseling, training and clinical supervision. She is the Founder of Understand My Mind (UMM), providing free resources and support on wellness and mental health topics.
Ms. Dunlap has extensive clinical experience working with children, adolescents, schools, families and adults. Her work experience includes Richmond Area-Multi Services, San Francisco where she works in school-based settings with the Wellness Program and also with children, adults and families at the outpatient clinic.
Ms. Dunlap has over 10 years of teaching experience at high school, community college and university settings. She is a trained school counselor and has extensive experience providing counseling in school-based settings. Ms. Dunlap's passion for school-based counseling services has led her to present on this topic at a national and international level and publishing articles on adolescent clinical needs, undocumented students and South Asian immigrant youth.
In her free time, Ms. Dunlap is active in the community and is on several committees and boards including International Committee Member for the American Counseling Association (ACA), past Communications Officer for the Asian American Association (AAPA) and past Chair for the Division On South Asian Americans, part of AAPA.
Professional Memberships
American Counseling Association
Asian American Psychological Association
California Association of Marriage and Family Therapist
Teaching
Community Mental Health
Child and Adolescent Counseling
Common Therapeutic Factors
Crisis, Disaster, and Trauma Counseling
MFT Professional Development